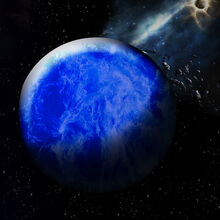 Samudra is a planet completely covered in water with artificial beaches and several private residences. This has been used to make Samudra a popular tourist destination, with orbiting stations Eclipse 1 through 5 complete with shopping, entertainment, and fun for the whole family.
If time has lapsed since your last docking with a spacial licensing and travel registration department boarding inspection, please plan sufficient time for an inspection before getting clearance to enter.
Ad blocker interference detected!
Wikia is a free-to-use site that makes money from advertising. We have a modified experience for viewers using ad blockers

Wikia is not accessible if you've made further modifications. Remove the custom ad blocker rule(s) and the page will load as expected.